18 Sep

Using Transceivers in the Bilingual Courtroom

Interpreting attorney-LEP client communications is an integral and confidential function of the court interpreter´s job. Due to social distancing, however, the COVID-19 pandemic threatens to restrict attorney-LEP client communications or create unsafe proximity risks for interpreters and their clients. Nonetheless, these bilingual communications can take place with the use of a two-way communications system while everyone involved can speak softly yet maintain a safe distance from each other.

Court interpreters are familiar with wireless simultaneous interpreting equipment where there is one transmitter with a microphone and one or more receivers with earphones. But many are not familiar with transceivers, which are units that can send and receive audio signals. Transceivers are applied in two-way communications and are often used by production teams in live theater and music venues as well as by football coaches and race car pit crews. This simultaneous two-way wireless system uses a frequency-hopping algorithm to avoid interference and is a very secure method of communication. Transceivers come in a simplex system, where one has to press a button to transmit their speech, or a full-duplex system that allows for hands-free speaking.
Examples of Transceivers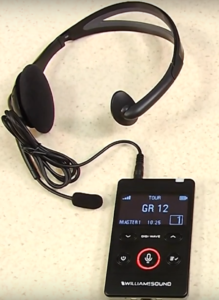 There are other products on the market that interpreters can use, but here are two examples. The DLT 400 by Williams Sound is a transceiver small enough to fit inside a shirt pocket and can be used in a number of scenarios. For example, the transceiver can be set so that an attorney's unit transmits and receives only English speech, an LEP litigant's unit transmits and receives only Spanish speech and the interpreter's master unit receives both languages and has a button to switch and transmit into the corresponding language. Other channels are also available if there are other language combinations that are needed at the same time — provided there are more units. The transceiver comes with a lithium battery (16 hrs. talk, 5 hrs. charge), a power supply and can also be charged through USB-C. This transceiver costs $503 while a headset that can be plugged into the DLT 400 costs an additional $100 to $300.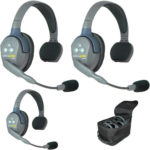 Another example is the Eartec UltraLITE, which offers a single or dual over-the-ear headset with a transceiver built right inside the ear cup, eliminating outer wires. They provide two-way voice communication and the microphone arm can swivel 270° so that the user can have it on the left or right side of the face. Raising the boom past the eyes mutes the microphone. This system, however, does not have separate channels. So everyone wearing a headset, which includes a microphone and an earphone, can hear everything that is said through the transceivers. If, for example, an attorney prefers not to listen to the Spanish while participating in the courtroom colloquy, they would have to lower the volume, place the headphone behind their ear or take it off altogether. The integrated transceiver and headset costs $175, which includes a lithium battery (6 hrs. talk, 3 hrs. charge). A power supply is sold separately for $30. The Eartec UL3S, nonetheless, includes three single-ear headsets (one master, two remote) three lithium batteries, a two-port charger and a medium soft-side case for $560.
If you have other examples of equipment you have used or have used transceivers in other scenarios inside or outside the courtroom, please share them in the comments.
Completeness and confidentiality meet social distancing
During the pandemic, equipment can be loaned and received by placing units on a table in order to observe social distancing. Removing the foam microphone cover allows for a more efficient wipe down of the plastic microphone boom. An alcohol wipe down of the equipment before and after each use should provide safety for further usage.
By using transceivers, interpreters can provide complete and confidential interpreting for attorney-LEP client communications without the risk of exposing themselves to the coronavirus and without posing further delays to justice.
---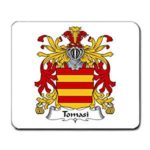 Sandro Tomasi has been a Spanish-English interpreter and translator since 1991. He is a New York State staff court interpreter and a certified medical interpreter by the State of Washington. Sandro is the author of the authoritative and acclaimed lexicographic work, An English-Spanish Dictionary of Criminal Law and Procedure (aka Tomasi's Law Dictionary), and a contributing author of Black's Law Dictionary, 11th ed. and Cabanellas de las Cuevas and Hoague's Diccionario Jurídico, Law Dictionary, 2nd ed. Sandro has served as chair of NAJIT's Education Committee and currently serves as chair of the Advocacy Committee.
---
Disclaimer: This week, The NAJIT Observer post includes a review of equipment interpreters might want to use to remain safe in this time of pandemic. NAJIT is in no way endorsing the use or purchase of the products and has received no payment or anything of value in exchange.
---