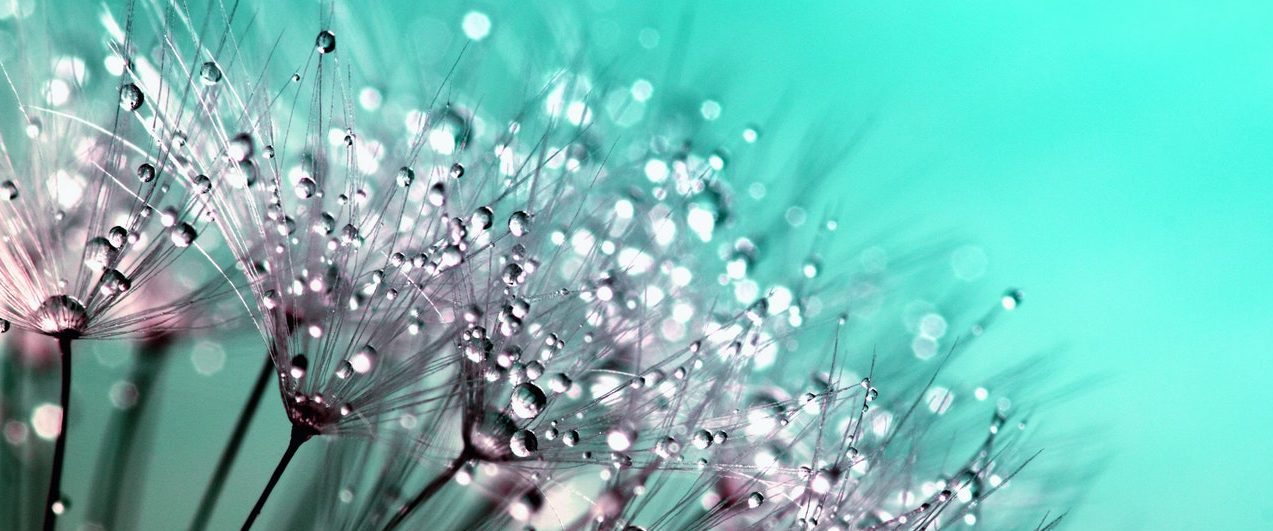 01 Jun

The Real Life of Interpreters

This was real life. There was no do-over.

My identity crisis started almost exactly two years ago when I left my job as a staff interpreter in New Jersey and headed into the Great Unknown (Montreal, Canada, to be exact). My plan was to work on my French so that I could add it as my third language and really take the plunge into the world of conference interpreting. When money ran out, I could always go home and freelance. (Aren't we interpreters lucky?)

So, I arrived in Montreal on a July afternoon in 2016, with a not-very-solid plan and a very realistic-seeming fantasy. I knew exactly one person in the city, and I wasn't qualified to work as an interpreter in Canada. To top it off, it turns out that it is hard to improve your French when you have exactly no-one to talk to! To say that I went from excited to depressed would be an understatement. It was frequently difficult to get out of bed in the morning.

I happened into the field of online training when I re-connected with Agustín from de la Mora Interpreter Training (they have tons of great classes, and I still teach for them. Check them out here.) I slowly started getting to know the city and the people and began making minimal progress on my French. Then one day, some interpreters from my old courthouse reached out to me for help.

"Hey, I know you're a nerd, and I really need to pass this certification exam…could you help coach me privately?" Okay, they didn't call me a nerd. But in reality, that is what I was, and suddenly it seemed that my years of neurotic studying had paid off. I had tons of material already from having taken every interpreting exam available to me. Then I created this website, put the word out on Facebook, and suddenly, a business was born.

It turns out I love training interpreters. I love it possibly even more than I love interpreting, which is saying a lot. It has given me a new sense of purpose in my new home, and over the last year and a half I have transformed from interpreter into coach. My ear has become even sharper while listening for the kind of subtle changes to meaning that students don't realize they are making, and my knowledge base has grown along with my students'.  I celebrate their successes with them and encourage them past the bumps they encounter along the way. Recently I started traveling for in-person training sessions (I'm actually on a plane as I write this) and I adore teaching face to face. It has gotten easier to get out of bed in the morning.

I spend my days coaching my students on several very important facts:
Interpreting is stressful. Anxiety is common. You can't expect it to go away.
Therefore…you must practice dealing with anxiety productively.
You must recognize the feeling of confidence and calm, and learn to re-create it in more stressful situations.
You will often fail before you succeed. Failure only counts as failure if you let it stop you from achieving what you want.
There is no such thing as perfection. I repeat: Such. Thing!
You must believe you are the best interpreter there ever was. Then, practice until you are.
Most importantly: Don't forget to breathe!
I spend almost as much time on this "anxiety management" as I spend teaching interpreting technique.
NAJIT's 39th Annual Conference is one week away. Here are a few reminders to make your experience a remarkable one: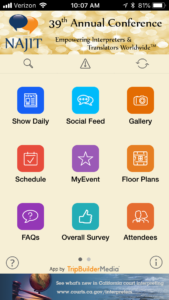 Use the app. It is a practical way to have everything at your fingertips, create your personalized schedule, easily connect with colleagues, and share feedback! An email will be sent from TripBuilder to all attendees on Friday, June 1st containing login instructions.

Active and Life members, your vote helps NAJIT grow. Make sure we are serving you correctly by helping elect our next Board. Go here to vote.
We've created a webpage to help you take full advantage of conference events. Have you checked every item on your Conference Checklist? 
▢ Registration
▢ Hotel
▢ Airfare
▢ App
▢ My Schedule
▢ Review Conference Events: Take a headshot photo, Meet & Greet, Keynote speaker, Saturday evening reception, etc.
So, what's all this got to do with interpreters in real life? Well, it's not easy to rebuild a life from scratch. While I help my students to improve, my own interpreting skills and immediate vocabulary recall are beginning to grow a bit rusty from disuse, causing my professional identity to feel a bit precarious. When I'm teaching, I feel great, but there are moments when I have a hard time with my own anxiety and self-confidence in my personal life. And after months of telling my students the same thing over and over, it occurred to me I really have to start practicing what I preach in real life. Because life, just like interpreting, is unpredictable. We must learn to handle changes and unexpected turbulence with grace, breathing through our anxiety and insecurities. Most of all, we can't expect ourselves to be perfect.
I've decided that, from this point forward, I'm going to follow the advice I give my students. Not just when I am interpreting or teaching, but all day, every day. I'm going to be the best "interpreter in real life" that there ever was. I'm going to expect nerves to arise and practice dealing with them productively. I'm going to recognize what calm feels like and bottle it up to enjoy later. And I'm trying—really, really trying—not to expect myself to be perfect.
I'll finish by urging you to do the same. We interpreters possess an amazing skill set that is transferable to everything else that we do.  It would be a shame not to put it to use. So, everyone on board? Let's head into the Great Unknown. Don't forget to breathe!
Photo by Anthony from Pexels
---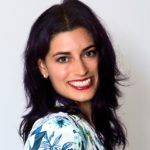 Athena Matilsky fell in love with Spanish the year she turned 16. She chose it as her major at Rutgers University and selected a focus in translation and interpreting. After graduation, she taught elementary school in Honduras and then returned home to begin freelancing as a medical and court interpreter. She has since achieved certifications as a Healthcare Interpreter and a Federal Court Interpreter. She was the recent editor-in-chief of Proteus. Currently, she works as a freelance interpreter/translator and trains candidates privately for the state and federal interpreting exams. When she is not writing or interpreting, you may find her practicing acroyoga or studying French. Website: https://athenaskyinterpreting.wordpress.com/