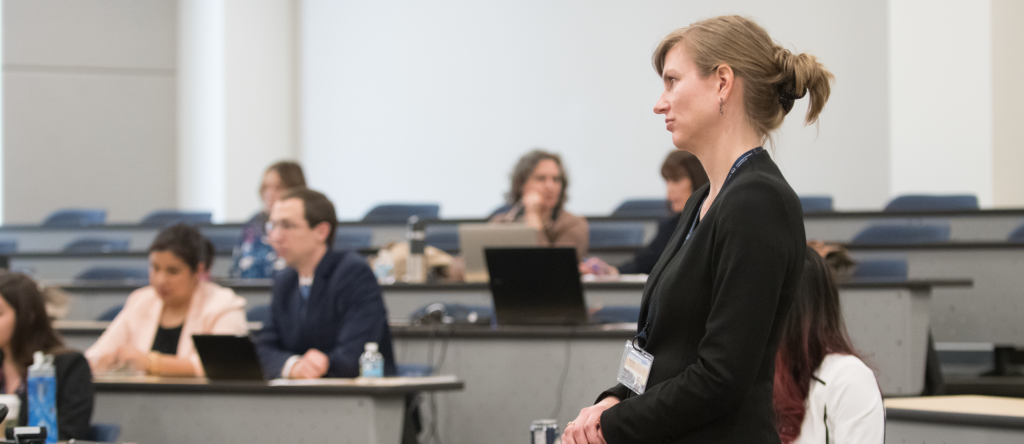 07 Apr

Future Idaho Court Interpreters Join Efforts with Future Immigration Attorneys

Our Guest Author this week is Fatima Cornwall, who comes to us from the Azores Islands, by way of Boise Idaho University.  Be a Guest Author: Your contributions enrich The NAJIT Observer. Please do keep them coming. Send an email to tno_editor@najit.org and we will get back to you.

TNO Disclaimer: Acceptance of material and its subsequent publication does not constitute an endorsement on the part of NAJIT.
---
By Fatima Cornwall © 2017
During the spring 2017 semester, students from Concordia Law University and Boise State University collaborated with local immigration attorneys to represent individuals in the Boise immigration court who seek asylum, protection under the convention against torture, and special immigration juvenile status as part of Project LAURA (Latin America Unaccompanied Minor and Refugee Assistance). Students from Boise State University assisted with interpretation during attorney-client visits, as well as with translation.
The Latin American Refugee Crisis is a reality
Project LAURA is Boise's legal community's response to the Latin American refugee crisis. Since 2014, the number of Latin American families fleeing violence in the U.S. has significantly increased, and as of 2016, unrepresented refugees facing deportation total approximately 2/3 of all Boise's non-detained removal cases. Until Project LAURA, no pro bono program existed in Boise to provide legal representation to these individuals. To read more about Project LAURA, please visit http://www.projectlaura.org/
Nicole Derden, an immigration attorney and founder of Project LAURA, was the instructor of record for the Immigration Clinic at Concordia Law School, and Fatima Cornwall, a federally certified court interpreter, was the instructor of record for the Department of World Languages with Boise State.
During the semester, all students were encouraged to observe hearings at the immigration court in Boise. Bilingual students were able to listen to the official interpretation provided by certified court interpreter Mark Conta, who later debriefed them on language and procedure questions.
Mock immigration merits hearing as a learning tool
The culminating project for all students was a mock immigration merits hearing at Concordia, where law students played the role of defense attorneys, and language students provided simultaneous and consecutive interpretation services. Simultaneous interpretation was provided via Linguali-IS, which allows several users to listen to the interpreter's rendition on their smartphones.
For the mock hearing, several local attorneys who also taught the immigration clinic played different roles: Angela Richards played the role of judge, and Angela Levesque played the role of therapist. Another community volunteered played the role of the respondent's father who appeared telephonically, adding the extra challenge of telephonic interpretation.
Many Idaho certified court interpreters also contributed to the success of the mock hearing. Diana Arbiser, Federal Court certified interpreter, was in charge of providing formative assessment during the mock hearing; Sandra Barrios, Statewide Language Access Manager, Idaho Supreme Court, played the role of the monolingual Spanish-speaking respondent; and Vanesa Bell, Language Access Coordinator for the Fourth Judicial District, was also in attendance.
Debriefing reveals challenges, errors
At the end of the mock hearing, both interpretation and law students debriefed with the professors. The interpretation students noted that at times it was hard to keep up with the simultaneous interpretation due to the rapid speed of the law students' remarks, even after they had already interrupted the proceedings to ask the judge to instruct the attorneys to speak slower. Interpretation students also said they struggled with very long utterances during the telephonic interpretation, and that it was difficult to interrupt the witness. Interpretation students all agreed that protocol, not vocabulary was the issue. On the other hand, one of the bilingual law students found it difficult not to bring up omissions, additions or even interpreter errors, which resulted in a very insightful discussion about challenging interpreters and how to handle challenges.
Students share their experiences
As part of the semester-long educational experience, students had to reflect monthly on their participation. Here is what some of the students had to say:
"The mock trial makes me both nervous and very excited. The only part that makes me nervous about the mock trial is that I don't want to get stuck on a word, and I need to memorize things like the swearing in a witness. I think it's a great idea that we're doing it as a team so we can see how it is in real life." Regina Tom, Spanish 496 student

"There are so many people within Idaho that need help, and we are playing a big role in many people's lives. That being said, I will highly recommend this opportunity to other Spanish students. Not only is this giving me hands-on experience, but, far more importantly, it is making actually real world change in the community." Mackenzie Moss, Spanish 496 student

"This educational experience has been a great one for me to finally put my interpreting skills to use.  It is good to talk about theory, but better to see how it can actually affect the lives of the people that are beneficiaries of it." Matthew Stocking, Spanish 496 student
Both universities are already planning to offer the Immigration Clinic/Interpretation Course next fall. If anyone is interested in offering a similar education experience please contact Fatima Cornwall at fcornwal@boisestate.edu or Nicole Derden at Nicole@idahoimmigrationlawyer.nt
---

Fátima Cornwall arrived from the Azores Islands in 1993. She holds a M.A. in Spanish from University of California – Santa Barbara. She is a CMI through the National Board of Certification for Medical Interpreters, as well as a Federal and State Certified Spanish and Portuguese Interpreter. She has been serving as in-state faculty for different workshops and training sessions for new and experienced interpreters for the past ten years.
Fátima is a professor at Boise State University where she works as the Spanish Language Coordinator and teaches courses in Portuguese and Spanish. And she can be reached by email: fcornwal@boisestate.edu and or Cellphone: (208) 841-8770