04 Jun

To be or not to be , that is the question…

When I hear fellow interpreters say they entered the profession for their calling to help others, I worry. I guess, in a sense, we do help people. We are a communication bridge, making it possible for a voice to be heard in a different language. We have a microphone function, as my professor, Ana Maria Gainer told me once. In that sense, we help people communicate, but that is where our helping vocation must end. For professional reasons we have an obligation to be impartial, be free of prejudice and bias, and avoid having a stake in the results of our interventions.

I didn't always see things this way. I did not come to interpreting after an academic program, basic training, or even a simple orientation. Instead, I was thrown into the job headfirst. I am not complaining; things were sort of that way back then. I came to the profession by chance. A family medical emergency trip to Mexico that lasted four months marked the end of my career as a freelance accountant and bookkeeper. While making plans to reach out to my old clients and find new ones, I was invited to interpret, just like that. After a single telephone interview, I was ready to start with minimum instruction.

There were many mishaps during my first few months of assignments, and, like most of you, I could write a whole book of funny and hilarious stories. I have also experienced dramatic, scary, or simply interesting moments. But for me, the most surprising lesson was when I realized that to be an interpreter, I was not to be emotionally involved.  I had assumed they came hand in hand.
Incompatible, who would have thought that?
I am a full-time judiciary interpreter nowadays. I am also a freelance translator and interpreter. However, when I first started, I was assigned mostly medical jobs. For some reason, agencies think those are the easiest jobs. They are different, not easier. Certainly, these medical assignments had the downside of awakening a compassionate side in me. Unbeknownst to me, that compassion was incompatible with my new career.
The following story would have horrified the professional I am today. But it happened to me before I knew what being an interpreter really meant and what our proper role was. I did not know the ethics we are bound to or how to handle situations like the one I am about to describe.
So, that is how I came to be working an assignment with an agency in the infancy of my interpreting career. I was given a mental evaluation assignment for the local Department of Human Services. The patient's story was that she had married a younger man who had abandoned her when she got older, and now that she was dispossessed, her daughters were cruel and mean. She shared that they treated her in inhuman ways and that although they received her Social Security checks, they barely provided for her basic needs. At some point, she showed me her shoes, which had holes in them. I learned all of this about her personal situation while waiting for her ride to pick her up, just keeping her company. (Keep in mind that I had no idea that I was not supposed to be doing this. I was simply doing what my mother would have expected of me).
After she called her daughters and learned they were not coming to get her, I offered her a ride since she lived miles away. On the way to her house, I stopped at the closest department store, where I bought her two pairs of shoes and the toiletries she needed. I also gave her my phone number.
On my way home after dropping her off, I called the agency's dispatcher, and I told her what had happened with the LEP and what I had done. As can be expected, she was terribly upset and explained how I had exposed the agency to great liability risk. "Can you imagine what would have happened if you had an accident with the patient in your car?" I was lucky she did not report me.
Incomprehensible…
I was shocked by the dispatcher's reaction. What had I done wrong? I grew up in a Catholic family among four sisters without brothers, and helping others was something to be admired and expected. It meant you were a good person, compassionate and caring.
Months later, I enrolled in a community college offering Legal Interpreter Certification for the first time. When I left the program with the first certificate ever issued, I was a different person. I finally knew what I had done wrong and why. I had to decide during those three semesters if being impartial was something I could do. I also had to learn the coping mechanisms I was to use when confronted with situations where my first and natural impulse was to be helpful.
In Shakespeare's play, Hamlet is contemplating which path to take in his famous soliloquy that includes the line "to be or not to be, that is the question." Interpreters must also make tough decisions and ethical judgment calls.  Although not at the level of Shakespearean tragedy, these decisions are difficult ones as we must fight a natural instinct to do good, to do the right thing. We hear phrases such as "see something, say something" all the time; doesn't that imply that we should also do something?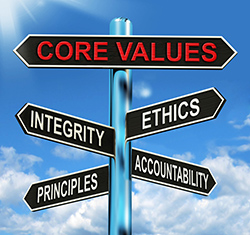 Since those days, I have come a long way and although I still feel compassion and empathy, I know that my role has nothing to do with being understanding, generous, or helpful. My job is simply to transfer meaning from one language to another – period – and without adding or omitting, in the same register as the source language. It's in every judiciary interpreter's code of ethics ever written.
Over the years, I have learned that medical interpreters have a similar role but that they fulfill additional functions such as cultural brokers and advocates.  I have also read numerous codes of conduct for legal interpreters from the different states where I am certified, as well as NAJIT and other associations I belong to.
What is not in any of those codes is any reference to having to help LEPs. Although I still occasionally struggle with feelings of impotence and helplessness while interpreting because advocating goes beyond the scope of my duties. I have found ways to cope and find a release for or my philanthropic impulses.
For example, volunteering for NAJIT and the New York Circle of Translators makes me feel I am doing my part as a member of a community. I also help colleagues and friends in different ways. And in my daily life, I find ways to do things for others and to feel grateful for what others do for me. But I no longer rely on my professional career to provide the kind of satisfaction I feel while "helping others." I now realize that the best way to help an LEP is to be true to my code of ethics and to provide him or her with the best services available for the case at hand. I know that to be professionally detached and unemotional is actually a way of helping…. helping the course of justice and "helping," to the best of our ethical abilities, the LEP.
---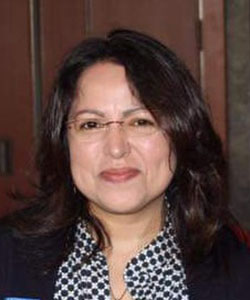 Hilda Zavala is a state certified/approved Spanish court interpreter and translator with more than thirteen years of experience in legal, medical, corporate, and non-profit settings in New York, New Jersey, Illinois, and Wisconsin. She is a board member, treasurer, and Conference Committee chair of the National Association of Judiciary Interpreters and Translators as well as former president of the New York Circle of Translators. She is an active and voting member of NAJIT, ATA, the NYCT and other professional groups. Hilda has two certificates of Legal Interpreting: Spanish/English, the latest one from NYU. Hilda has been a Staff Interpreter at Essex County Superior Court in New Jersey for over 5 years. Born in Chicago, Hilda lived for 20 years in Mexico and loves traveling. She continuously looks for opportunities to promote and advance the interpreting profession. Contact: hzavala@najit.org