14 Mar

Things We're Not Talking About

This is the war everyone hoped would never happen. And yet it has happened. Most of us had never paid attention to Ukraine, except perhaps when it came up during the testimony before Congress in 2019 regarding Marie Yovanovitch, a former U.S. Ambassador to Ukraine. U.S. news are seldom about any other country, especially one so far away. This war, however, is now in the news every day. If you have not heard about Ukraine by now, you must be living off the grid.

Some interpreter and translator groups, organizations, and associations, have published messages of solidarity, which is nice. But—truth be told—messages of solidarity with the people of Ukraine are just words. Then there are those who have stood silent: no words, no actions, as if whatever is happening on that side of the world has nothing to do with their day-to-day reality. Oh, yes, gas prices have gone up. Now there's an inconvenient reminder that there is a war going on somewhere in the world.

I see the feeds on social media from our colleagues in other parts of the world and feel a mixture of pride for what they are doing and shame for what we are not. The Institute of Translation and Interpreting (ITI) in the U.K. posted in its Twitter feed on March 11 that a language-support task force has been created to help Ukrainians seeking refuge in countries in which they may not speak or understand the language. Members of this task force include AIIC (UK & Ireland), the National Register for Public Services Interpreters (NRPSI), Charity Translators, the Chartered Institute of Linguists (CIOL), ITI, and the Association of Translation Companies (ATC). [https://www.iti.org.uk/resource/the-uk-s-ukraine-language-support-task-force.html#.YisTg3zWQig.twitter] Notice how professional translators, interpreters, linguists, and language-service companies are all joining together in this effort.

On March 8, in another Twitter post, AIIC asked interpreters and translators to join a roster of professionals to be shared with every city welcoming refugees from Ukraine. As of that date there were 723 interpreters and translators volunteering in 64 countries. [aiic.org/site/probono] That same day, Ewandro Magalhaes, Chief Language Officer at KUDO, shared a message on LinkedIn and Twitter from the Polish government asking for monetary rather than in-kind donations for Ukrainian refugees. [https://www.gov.pl/web/unitedkingdom/humanitarian-aid-to-ukraine]

If you have been thinking about ways to help but didn't know how, here's an official web page with information coming directly from the country that is bearing the brunt of refugee influx, Poland: https://www.pomagamukrainie.gov.pl.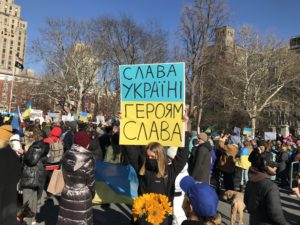 And last, but not least, I would like to share some words written and posted on social media three days after the Russian invasion, by Ukrainian-born Lidiia Yershykhina, Legal and International Affairs Officer at the National Institute of Industrial Property in France. "We appreciate your thoughts and prayers when hearing sirens and blasts on the street. We value bold statements in the press that help to put things straight. We love to scroll through beautiful pictures and see the blue and yellow lights on famous buildings while sheltering in basements and metro stations. We are thankful for the recently introduced sanctions against the aggressor. Please DO NOT STOP there!
Please, help Ukraine in these difficult times while the attack lasts, the Ukrainians will continue to spend their money, energy, blood, nerves, and tears, and hope that the world is not only concerned but also ready to act NOW."
After you read this, my hope is that you will not stay silent or be content with a statement of solidarity. My hope is that you will do a lot more than that. And I thank you, because this blog today is not about our profession, but it is about our humanity.
---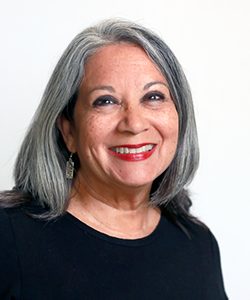 Janis Palma has been a federally certified English<>Spanish judiciary interpreter since 1981. Her experience includes conference work in the private sector and seminar interpreting for the U.S. State Department. She has been a consultant for various higher education institutions, professional associations, and government agencies on judiciary interpreting and translating issues. She worked as an independent contractor for over twenty years in federal, state, and immigration courts around the U.S. before taking a full-time job. Janis joined the U.S. District Courts in Puerto Rico as a staff interpreter in April 2002 and retired in 2017. She now lives in San Antonio, Texas, embracing the joys of being a grandmother. She also enjoys volunteering for her professional associations, has been on the SSTI and TAJIT Boards, and is currently on the NAJIT Board of Directors. Contact: jpalma@najit.org
Body photo by Rgm38, taken from Wikimedia Commons.