28 Dec

Happy Holidays!

On behalf of the Blog team and NAJIT as a whole, we hope you are having a very happy and restful holiday, wherever you may be and with whomever you may be spending it.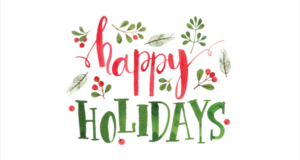 Merry Christmas! Happy Hanukkah! ¡Feliz Navidad! Joyeux Noël! 新年快乐! Bom Natal! Giáng sinh vui vẻ! Maligayang Pasko! !عِيد مِيلَاد مَجِيد
Warmly,
The NAJIT Observer
---
Featured image (cropped) taken from "Yosemite National Park on a Wintry, Snowy Day in December" by Beedie Savage at Peace of Mind Through Photography, under the CC BY 3.0 license. Body image "Christmas Happy Holidays" from PNG ALL, under the CC BY-NC 4.0 license.