24 Nov

Dictionary Review: Dicionário de Direito, Economia e Contabilidade

Feature photo by Tamás Mészáros from Pexels 

By Gio Lester

I am the proud owner of a 4th edition Dicionário de Direito, Economia e Contabilidade (in English, Dictionary of Law, Economics and Accounting) by Marcílio Moreira de Castro, or simply "a Marcílio," as we would say a Larousse or a Webster. It is a bilingual English-Brazilian Portuguese, and vice-versa, dictionary.

On a 2011 interview by Naomi Sutcliff de Moraes for the Portuguese Language Division of the American Translators Association, I learned a few things about Marcílio: he has a Law degree from Universidade Federal de Minas Gerais and is a Tradutor Público Juramentado – a sworn translator whose work is binding in a Brazilian court of law. And that his time at Secretaria de Direito Econômico do Ministério da Justiça, a government agency comparable to the US Department of Justice Antitrust and Tax Divisions, ratified his interest in the financial-economic legal field. What follows is my review of the 2013,  4th edition of the dictionary.

I already owned a 3rd edition and was surprised to see that the new book was smaller, but it was said to contain more entries. I also appreciated the changes introduced: bookmark ribbons for each language, a vertical banner on the edge of the long side of the pages identifying the letters' and language sections (black banner for the Portuguese section, gray banner for the English). The fonts used are also smaller, but that does not interfere with the ease of reading.

The Dictionary of Law, Economics and Accounting is geared to translators and other professionals who work in those fields in both English and Portuguese. It offers a multi-dimensional view of terms, covering meaning, usage and applicability. The author offers straight forward translations, practical examples, support for differentiations and false cognates that include citations from renowned works in the specific field – or fields – the entry applies to.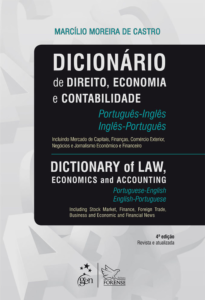 The Dictionary's 31,000 terms are enriched by the author's thorough explanations, comments and references. In the Anexos section of the book (pgs. 769-827), Marcílio regales us with information, recommendations, observations on usage, comparisons of style, form and purpose, as well as observations regarding terminology, translation and appropriateness of terms used based on the impact of the two legal systems involved, Civil Law and Common Law. One of the entries in that section is the term "shall," which covers about three pages (775-778).
I picked the term negociar (pg. 272) to illustrate how complete Mauricio's work is. The Dictionary gives us 51 lines of text distributed on two columns, with 8 individual sub-entries in the form of phrases using derivative terms and usages, plus examples of sentence construction and references. The cross reference has the reader looking for bargain, negotiate, negotiable, trade (verb) and trading, providing a very complete and encompassing understanding of the term. In Marcílio's work, words are shown as multi-dimensional and not only a string of letters with meaning attached directly to those, regardless of how the word is applied or in what field.
Is it perfect? No. I believe the author himself would tell you it is an ongoing work – just take a look at his blog (Dicionário Marcílio) to see what I mean. I had wished for an electronic version of the book, and Marcílio made a PDF version available free of charge (the link is on the first page of his blog). That will do me.
---
Technical information:

Title: Dicionário de Direito, Economia e Contabilidade // Dictionary of Law, Economics and Accounting – 4th edition reviewed and updated

Author: Marcilio Moreira de Castro

Publisher:  Grupo Editorial Nacional –GEN/Editora Forense

Date of publication: 2013 (4th edition)

No. of pages and/or entries:  856 pages; more than 31,000 terms

ISBN13: 978-85-309-4646

Price:  available on PDF online

Specialty/field: translation terminology for law, economics, accounting

Type of work (dictionary, glossary): bi-lingual dictionary

Language(s): American English and Brazilian Portuguese (some Continental Portuguese entries)
---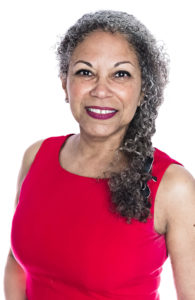 Brazilian-born Giovanna "Gio" Lester, Co-Chair of NAJIT's PR Committee, started her career in translation and interpreting in 1980. Gio is very active in her profession and in the associations she is affiliated with. In 2009, she co-founded the Florida ATA Chapter (ATIF), served as its first elected president (2011-2012), and later as president of its interim board. As an international conference interpreter, Gio has been the voice of government heads and officials, scientists, researchers, doctors, hairdressers, teachers, engineers, investors and more. Gio has been a contributor to The NAJIT Observer since its inception in 2011, and its Editor since 2016. You can follow her on Twitter (@cariobana) and she can also be reached at gio@giolester.com.