05 Mar

A Roundabout Way to do Remote Simultaneous Interpreting

It is hard to believe that it has been a year since I started working from home due to the pandemic. It feels so long ago, but I remember the uncertainty vividly. Something ominous hung heavily in the air, blinking question marks hovered in everyone's thought bubbles. I remember my last night out without a mask on; I didn't own one yet, unlike now, where masks hang on every door knob of my apartment. I was meeting a friend for dinner in lower Manhattan. Our plan was to find a place on the fly like we always did, but we quickly discovered most restaurants were dark and padlocked. We settled on a nearly empty Irish pub in the West Village. I didn't fully comprehend the ghost town that was New York City on a warm Friday night in March. I walked home alone that night to a frighteningly quiet city, unaware of the magnitude of the coronavirus.

From then on out, to my cat Everdeen's chagrin, I no longer left the apartment. Work from home (WFH) came piece by piece, the online courtrooms opening and fitting into their assigned slots on the calendar like a developing game of Tetris. For the court interpreters in Brooklyn Criminal Court, the cases started steadily increasing not long after the initial shutdown. We adapted as quickly as possible, especially considering arraignments were not able to stop functioning fully at any point.

In Kings County, we have been using Microsoft Teams as our working platform, which doesn't have a built in RSI (Remote Simultaneous Interpretation) feature. In its absence, we were thrust into an environment where we would have to do consecutive interpretation at all stages of the proceedings.

The remote consecutive mode is arduous. Within the judiciary, consecutive interpretation is only meant for specific instances, predominantly the witness stand. Since we started with Microsoft Teams, though, we've been using remote consecutive exclusively. It's unnatural for the court interpreter to be such a focal point in the courtroom – with simultaneous interpretation our role is unobtrusive. The choppy 'stop-and-talk' nature of remote consecutive has also doubled the duration of even simple cases.

While it's great that this shift has allowed us to brush up on our less-used consecutive skills, the fact of the matter is that consecutive interpreting wasn't meant to be used in this capacity.
Thinking outside the box
To circumvent the over-use of remote consecutive interpretation, I started to flirt with other ideas inspired by the many educational webinars I'd watched in my free time. I created a specific RSI protocol proposal for the NYC courts with the hopes of creating awareness of the court interpreter and improving our virtual role.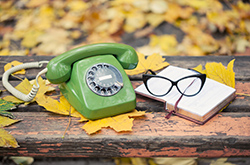 The protocol utilizes our personal cell phone at this point, but it's open to upgrades in technology. If we were issued soft phones or tablets, this protocol would be updated. By and large, the parties to the cases are working from home, and this RSI method works best for the LEP (Limited English Proficient) court user who appears virtually from home as well.
The idea is simple at its core: the court interpreter uses their cell phone to call the LEP court user, while a second device (laptop, tablet, etc.) is connected to the virtual courtroom. The courtroom on the court interpreter's second device is muted to not disrupt the courtroom proceedings, and the interpreter interprets simultaneously into their cell phone for the LEP court user. While we are working with our personal phone numbers, it's important to remember to use *67 before dialing an LEP court user's number so that our phone number remains private.
Can you imagine your desk set up like this? In my case, I have my laptop open with my camera on and in front of me. I use a headset to listen to the courtroom and I have the LEP court user on speaker phone next to me on my desk. If the Court addresses the LEP court user directly, I toggle between mute and unmute on my laptop to interpret their responses. This isn't an easy feat because it adds additional cognitive stress to interpretation.
This protocol is still in the inchoate stages of implementation in my courthouse. I like to ask each judge individually before each case if they are open to this burgeoning experiment. So far, the vast majority are not only willing to try it but sing its praises too. It's not extra work for any other staff member, it halves the time of the consecutive proceedings, and it's unobtrusive.
I find myself enjoying promoting this roundabout way to do RSI – it feels rewarding spreading awareness for our profession. At the very least, having a conversation about the intricacies of our craft with other court staff can help foster empathy. No one can say what our world will look in another year, so these types of innovations are crucial to helping us stay current in a technologically evolving world. Adjustability has become a paramount trait; after all, even my cat adapted to my constant presence in her area.
"Interpreters will never be replaced by technology. They will be replaced by interpreters who use technology" – Bill Wood
---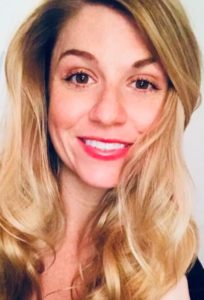 Sara Elizabeth (Elle) Dowd is a staff court interpreter in New York City. Before starting work in criminal court in Brooklyn, she worked as an independent contractor to kick-start her interpreting career. Her experience includes Spanish<>English interpretation in sundry work environments: medical appointments, disability hearings, social services, public school system meetings, and much more. Her enthusiasm for interpretation can be traced back to living in Spain, where she often served as the language conduit between her visiting Dad and her Spanish then-boyfriend. She was an English teacher abroad for several years and considers teaching a passion. In her free time, you can find her running along the Hudson River or fostering kittens.