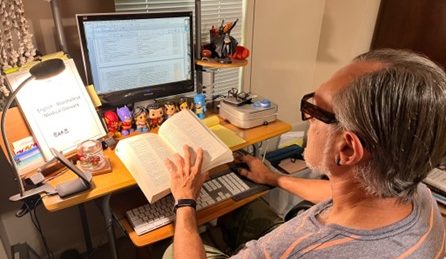 07 Aug

A Family Affair

When Barb Fisher began interpreting for Marshallese-speaking people in 2011, she would never have imagined her whole family would soon be ushered into the same line of work.

The Fisher family first became acquainted with the Marshallese language when they moved to the Republic of the Marshall Islands (RMI) in 1989. Eric and Barb Fisher would end up spending twenty-two years in the RMI, where three of their children were born and all four were raised speaking both English and Marshallese. Fast forward to the present day, and the whole family has now moved back to the East Coast.

When Barb first began working as an interpreter for Pacific Interpreters (which was later bought out by a larger language-services provider), Marshallese interpreting jobs were sparse. A decade later, almost two thirds of the Marshallese population have migrated to states in the U.S. like Arkansas, Washington, and California, to name a few. Barb encouraged her second-oldest daughter, Bethany, to become a Marshallese interpreter, too. A few years later, Bethany's younger sister, Anna, would also become a Marshallese interpreter. Then Eric, Barb's husband, joined the family bandwagon and began doing Marshallese translation work. Lastly, their oldest daughter, Cherith, started to do translation work with her father in the summer of 2022.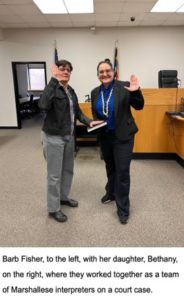 "It's really cool to have so many interpreters and translators in our family, because when we need support, there is always someone there to help," said Anna, age 28. The family members interpret and translate in realms ranging from medicine to law, finance, and education.
"Marshallese is spoken by fewer than 60,000 people world-wide," said Eric Fisher, the father of the family. "With such a small population, there are even fewer Marshallese interpreters and translators in the U.S., so it is great that most of our family works in both these linguistic fields."
Marshallese is a language of lesser diffusion, which makes it difficult to find any language-specific learning resources for Marshallese interpreters and translators. There are no Marshallese language tests for certification in the U.S., a similar dilemma faced by other rare languages such as Chuukese, Yapese, Kosraean, and Pohnpeiian, all of the Micronesian family. These are languages spoken in several sister islands to the RMI, the four island nations that make up the Federated States of Micronesia (FSM).
"We know that island nations in Micronesia face the growing threat of climate change, which will in turn create more climate-change refugees fleeing to the U.S., like the Marshallese people," said Bethany Fisher, age 32. "It is imperative that we continue to hone our skills and seek resources for lesser-known indigenous languages, so that we can continue to improve our skills as interpreters and translators."
Some states like Arkansas are working to create a certification test for Marshallese court interpreters. The University of Arkansas has even partnered with members of the Marshallese community in Springdale to begin an educational initiative entitled the MICI (Marshallese Interpreting for Community Inclusion) project. MICI works to provide training for in-state Marshallese interpreters.
Presently, the training is available only for Arkansas residents, but they are hoping to broaden their scope to include residents of other states, too. "I took the written exam and attended the two-day court interpreter workshop with Augustin De La Mora in North Carolina," said Barb Fisher. "I passed the written exam in English, but I couldn't take the oral exam in Marshallese, since there isn't one available. Presently, I am 'qualified' and 'considered credentialed' to work as a Marshallese interpreter in North Carolina. The credentials come from my experience working, living, and interpreting in the Marshall Islands for over twenty years. There are over a dozen different states that have 'grandfathered' me in or have granted me reciprocity to work in their courts."
Although resources for rare languages like Marshallese are very limited, the Fisher family feels lucky to have each other. "It is a point of pride for our family to be able to work together, effecting change and giving back to the Marshallese community that gave so much to us," said Cherith, the oldest of the Fisher kids. "This work is hard, but we are thankful to have each other." 
---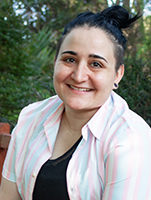 Bethany Fisher has been a professional Marshallese interpreter since 2017. She is qualified and "considered credentialed" as a Marshallese interpreter in North Carolina. She and her family are pioneers for the Marshallese language in the United States, having moved to the Republic of the Marshall Islands in 1989. They currently live in South Carolina. Contact: islandinterpreters@gmail.com. Contact Barb Fisher at barbericfish@gmail.com. 
Featured image: Eric Fisher working on a Marshallese translation project. Photo courtesy of the author. Body photo courtesy of the author.