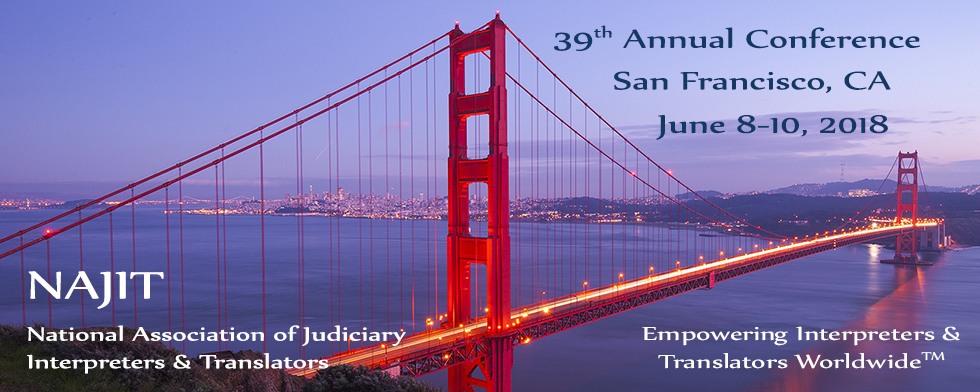 16 Mar

Join Us in the City by the Bay for NAJIT 39

As my colleague Ernest Niño-Murcia stated in his candidate statement to run for NAJIT's Board of Directors, "Interpreting is not a job for me; it is a way of life." That is certainly true for me.

When you are a professional translator and/or interpreter, at every waking moment you are listening to something and going over in your mind the possible equivalents in the other language in your language pair. It is a constant affair. You stop your friends and colleagues in the mid-sentence to inquire about a word. You highlight books, write the equivalent term in the margin. You keep copies of documents you find for practice, and you scan and study them. You practice as you listen to your favorite TV show or song. You read constantly in both languages but mainly in your weaker one. You register for classes because you want to. You pause during movies to look up a term!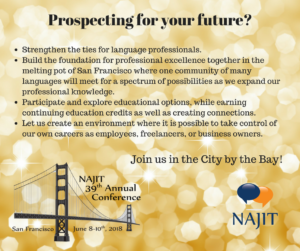 Ten years ago, when I entered this profession almost by chance, as happens to many of us, T&I did not have the recognition and respect that it enjoys today. I started interpreting in Illinois, and we did not have a certification program at that time. That was then; today, Illinois has a court interpreter certification program and has joined other states in creating training programs. Many state certification programs either have or are evaluating the possibility to require CEUs (Continuing Education Units) as a requirement for certified professionals to keep the certification in good standing. However, required or not, T&I professionals in their majority continue to strive for more.
That's where professional associations shine. They provide assistance in meeting CEU requirements, help develop, establish and implement professional standards, fight for professional recognition, provide a forum for translators and interpreters to meet and network, and more.
The National Association of Interpreters and Translators-NAJIT is our champion. This year we will be holding our 39th Annual Conference in San Francisco, California. Talk about the professionalization of T&I… We will have something for everyone – from a photographer for professional headshots to an advisor on retirement and investing information. We offer opportunities for skills development, a presentation about being expert witnesses, and so much more! This opportunity is an incredible investment in your professional development and career.
It is time to take the future into our hands and take advantage of all the opportunities that NAJIT is putting at our disposal at its annual conference!
So, will you join us in the City by the Bay?
---
Hilda Shymanik is a Spanish Court Interpreter certified in New York, New Jersey, Illinois, and Wisconsin. She has more than ten years of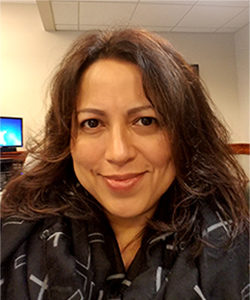 experience interpreting in legal, medical, corporate, and non-profit settings. She is NAJIT's Treasurer and former Director, President of the New York Circle of Translators (an ATA chapter), and a member of several other professional associations. Hilda is currently a Staff Interpreter at Essex County Superior Court in New Jersey. She has a Legal Interpreter Certificate from Waubonsee College and a Court Interpreter Certificate from NYU.
Born in Chicago, Hilda lived for 20 years in Mexico and has traveled extensively around the world. She continuously looks for opportunities to promote and advance the interpreting profession with the New York State Unified Court System and local colleges in the state of New York. In addition, Hilda networks actively within the interpreting and translation community, including mentoring and advising students and other individuals new to the profession.