01 Jan

A Look at Data on Changes in our Profession

It's January 1st, and like everyone else, I hope 2021 will be a better year. We all look forward to the end of this pandemic that has affected us all in many ways. With that in mind, I wanted the first post of The NAJIT Observer for 2021 to be one that looks forward to the future of our profession. A great place to start is the entry for interpreters and translators in the Occupational Outlook Handbook (OOH).

While it's not the most exciting book I've ever seen, and at over 1,300 pages it's not exactly light reading, the OOH is nonetheless important to all interpreters and translators. Produced by the Bureau of Labor Statistics (BLS) of the US Department of Labor, the OOH is the "bible" for information on the most significant occupations and professions in the labor market. The addition of interpreters and translators to the OOH in 2002 was a significant milestone for our profession.
Evolution of the entry
This was the entire entry for interpreters and translators in 2002:
Interpreters and translators translate or interpret written, oral, or sign language text into another language for others.
• 2000 employment: 22,000
• Projected 2000-10 employment change: Faster than average
• Most significant source of training: Long-term on-the-job training
By contrast, the current entry in the OOH for interpreters and translators is several pages long and includes information on what we do, the different work settings for T&I, how people enter the profession, and data on pay and the current and future outlook for jobs. The entry also includes links for more information, including one to NAJIT. It's a great source of information on our profession.
Without question, the OOH has its flaws. For one thing, it doesn't make a distinction between translators and interpreters, nor does it break out data for interpreters in different settings, like the courts. For another, it doesn't include wage data for self-employed interpreters and translators. Regardless of these flaws, it still includes valuable information.
It is interesting to compare the data from the 2002 OOH with the current one, which has data from 2019. In 2019, there were 77,400 jobs for interpreters and translators, compared with just 22,000 in 2002. The outlook for our profession is incredibly positive, with jobs expected to grow by 20% over the next 10 years, which is "much faster than average."
What about pay?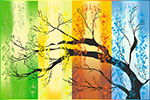 According to the OOH, the average pay for interpreters and translators in 2019 was $51,830. But there was a lot of variation: the lowest 10 percent earned less than $28,170 and the highest 10 percent earned more than $94,370. The OOH says that 21% of interpreters and translators are self-employed. That sounds low to me, but that's what the data says. As I mentioned earlier, the wage data in the OOH does not include these self-employed interpreters and translators.
I'd like to acknowledge efforts others have made to provide better data on compensation. In 2014, Robert Joe Lee, former manager of the New Jersey Judiciary's Language Access, created a website with data on compensation for court interpreters throughout the United States. In 2019, Sandro Tomasi conducted a comprehensive analysis of court interpreter compensation in New York (available through the NAJIT website) as part of an effort to increase pay substantially in that state.
Returning to the OOH, another big change from 2002 is in the education background required in the profession. While most interpreters and translators in 2002 developed their skills on the job, today most enter the profession with at least a bachelor's degree. The OOH also says that in addition to reading, writing, speaking, and listening skills, successful interpreters and translators need business acumen, cultural sensitivity, and interpersonal skills.
The long-term prospects for T&I
Of course, we don't yet know how the COVID-19 pandemic has affected the long-term prospects for our profession, but we know the last months have been very difficult for many of us, with major disruptions in the way courts operate and a rapid acceleration of the use of technology as an integral part of our jobs. Many interpreters and translators have seen their hours reduced or lost clients to the economic downturn that resulted from the pandemic. Conference interpreters have been particularly hard hit, but all have been affected. For many of us, the recovery can't come soon enough.
But the OOH reminds us of the long-term trends in our profession that assure us a recovery is indeed coming. According to the OOH. demand will remain solid for interpreters and translators of French, German, Portuguese, Russian, and Spanish and grow for Arabic and other Middle Eastern languages, Asian languages including Chinese, Japanese, Hindi, and Korean, and indigenous languages from Mexico and Central America such as Mixtec, Zapotec, and Mayan.
And the ongoing evolution of our profession will continue, with increasing recognition and stature for interpreters and translators. But we must understand that the future of our profession is in our hands. Only we can take ownership of our profession by supporting our professional organizations, holding ourselves to high ethical standards, and constantly striving to improve our skills and expertise. I know this is how interpreters and translators act, and it's why I'm proud to be a member of this profession.
Happy New Year, everyone!
---

Gladys Matthews holds a degree in French from the Universidad de Costa Rica and a master's degree in terminology and translation and Ph.D. in linguistics with an emphasis in legal translation from Université Laval in Canada. A certified court interpreter and experienced instructor, Gladys taught two court interpreting courses she developed for the Master of Conference Interpreting program of Glendon College of York University, Toronto (one language-neutral course for the entire cohort and the other for the English-French track). She also served as director and faculty member in interpreting programs in several colleges and universities in Canada and the United States, and most recently has been a guest lecturer in her native Costa Rica. Gladys currently splits her time between writing and lecturing. Email Gladys at TNO_Editor@najit.org.
Read other posts by Gladys Matthews.