14 Aug

Salsa a la Sullivan

The Milwaukee-Chicago urban corridor has a diverse offering of food markets. This summer, I stopped in at the Seven Mile Flea Market in search of fresh fruits and vegetables.  Ever since I can remember, I have been curious about two things: language and food.  I am sure most interpreters and translators can relate to that experience. Let's explore a bit of both food ingredients and words together.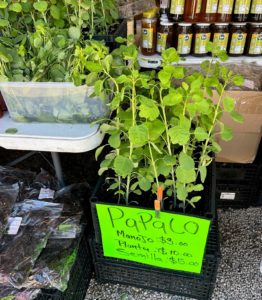 At the market, walking along the vegetable stands on one of those rare, hot Wisconsin days, I spot a bunch of "Pápalo" twigs next to the watermelons. My memory jumps back to my childhood near Cuernavaca in Mexico.  My mother, Eileen Sullivan, is handing me a taco she lovingly made with "queso fresco" on a warm corn tortilla with a topping of pápalo leaves.
"Queso fresco" is a soft, fresh cheese, and pápalo is an herb with a strong flavor that many people love and others hate… sort of like cilantro.  I can taste that mix of flavors as the memory floods my mind.  During my childhood, my mother was a language teacher and a translator/interpreter.  Incredibly, at age eighty, she recently finished the translation of a book, and she's still cooking, too!  Ever since I can remember, she had a passion for preparing all sorts of food, and a keen interest in languages.  I think I may have inherited both. My mother has always been a creative cook and an insatiable learner of new words, where they came from, how and when they are used. Of course, this is what we linguists can spend hours on.
If you are a non-Spanish speaker, or even if you are, think of the word "salsa." It is the Spanish word for "sauce," and the recipes for salsa are countless.  Just like any other sauce, a salsa can be sweet, spicy, or hot and can contain a variety of spices and ingredients. The mash of tomatoes and hot peppers we commonly know as "salsa" in the United States is a recipe that has been in use for thousands of years.  Curiously, as popular as salsa is, its original name, the Náhuatl word "chilmolli," is no longer used.  By the way, if you're a Spanish speaker and are curious about the language of the ancient Aztecs or Mexicas, check out this online dictionary published by the Autonomous National University of Mexico.
The word "quelite" in Mexico is used to refer to a variety of edible greens.  I remember my mother saying "papaloquelite" for "pápalo." When I asked the Mexican vendors at the market what it was called in English, they shrugged their shoulders, and one of them said: Papalation! (we all laughed). Porophyllum ruderale is its scientific name; it's also commonly known as summer coriander and Bolivian cilantro.  I'm sure there are many other names.  Please comment if you know one. Lastly, here a few cooking suggestions.
For the best chilmolli or salsa:
Use the freshest ingredients you can find
Use more of the ingredients you like, less of the ones you don't
Make small quantities you'll consume right away
If you can, keep it at room temperature and consume it right away
Chop, grate, or process your ingredients. If you have a stone mortar (called "molcajete" in Mexico), that makes the best tasting salsa, according to some
Here's how I made the salsa with pápalo:
In the "molcajete," grind a pinch of salt and 2 cloves of fresh garlic.
Add ½ of a large jalapeno pepper, slivered. Keep grinding.
Add ¼ small onion, in chunks. Grind some more.
Add 2 leaves of pápalo; grind more.
Add 3 small garden tomatoes, quartered. Grind a little more.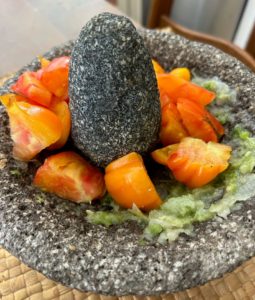 If you don't have a mortar, just chop all the ingredients finely or put them in a food processor or blender.  You can put them in all at once if you're not using a mortar. Happy cooking and word discovery!
---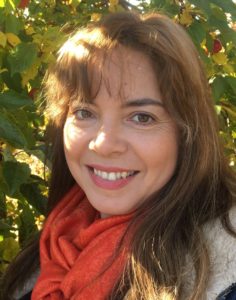 Reme Bashi has been a certified court interpreter in Wisconsin since 2008.  She began her career as an interpreter and translator in Mexico, at the University of Veracruz, where she majored in pedagogy. Being bilingual in English and Spanish lead her to language teaching and then to translation and interpreting.  She was a conference interpreter for several years, interpreting for the media and government events in Mexico.
In the Midwest, Bashi has interpreted in a variety of settings – education, manufacturing, legal, and community. When she's not interpreting, she likes to learn about new subjects, something that she considers pivotal to becoming a more proficient language access professional. Recently she has immersed herself in hospitality, urban gardening, and ancestry research. Contact: reme_sullivan@yahoo.com
Blog-post photos courtesy of the author.