20 Oct

Finding the Parallels – Legal and Medical Interpreter Summit

By Gio Lester ©2017

On October 13, I had the honor of representing NAJIT at the second Finding the Parallels – Legal and Medical Interpreter Summit, organized by De La Mora Interpreter Training, in Orlando, FL. The first event happened in 2013. I was part of the organizing team, and Rob Cruz was the NAJIT representative. Finding the Parallels, a 3-day event, explores the points where court and medical interpreting roles, responsibilities and codes of ethics converge, and seeks to support the calls for certification.

NAJIT was invited to be part of the Summit's Ethics Panel held on the first day. The seven professionals composing the panel were: Agustín Servin de la Mora (moderator), Claudia E. Villalba, Athena Matilsky, Katty Kauffman, Dr. Lizbeth Mendoza, Patricia Alonzo, and I.

We each shared snippets of our personal experiences, and those of us on the panel who were representing professional entities introduced them.

The second part of the panel was an open discussion. It was very lively, our colleagues had many questions and we went overtime. An interesting aspect of medical interpreting that court interpreters envy is patient advocacy. Being able to, within limits and following protocol, speak up for your client on the interest of quality and appropriate care, can be liberating. Patricia Alonzo mentioned, as an example, reminding a patient to pose specific questions to the doctor, nurse or technician; or reminding a doctor to confirm the medications the patient is allergic to.

And Claudia Villalba reminded us that, as court interpreters, our hands are tied: we cannot intervene in the process; the situations in which the interpreter is allowed to speak in his or her own voice are very few. We may defend our rendition of an utterance when it is challenged, we may ask for a repetition when we don't understand or miss part of a party's speech, for example; but we may not speak on behalf of our clients.

Agustín de la Mora made it very clear that patient advocacy must follow the incremental intervention process introduced by Cynthia Roat: 1. Message Converter, 2. Message Clarifier, 3. Cultural Clarifier and 4. Patient Advocate. In court, our responsibility is to ensure the record is clean and clear. In a medical encounter, our responsibility is to ensure a positive outcome for both patient and healthcare provider – where communication is concerned.

Patricia Alonso and Agustín made interesting observations regarding the different status afforded ALS professionals. According to Patricia, ASL users are very aware of their rights and demand them. They will question whether an interpreter is ASL certified or not, and refuse one who isn't. The American with Disabilities Act (ADA) regulations have encouraged engagement by ASL interpreters and, ultimately, it is a strong weapon and deterrent expertly yielded by both professionals and clients.

Conversely, as pointed out by Agustín, few spoken language court interpreters are aware of the Court Interpreter Act signed by President Carter in 1978. In summary, the Court Interpreter Act of 1978 establishes that any individual has the right to the services of a certified or otherwise qualified court interpreting professional when her/his ability to communicate or comprehend is affected by a physical (hearing or speech) or linguistic (limited English proficiency) barrier. Emphasis on "certified or otherwise qualified professional."

ASL professionals flock to their association. According to the Registry of Interpreters for the Deaf's (RID) 2016 Annual Report, their worldwide membership is 15,411, with most members in the United States (15,185). If we were to combine the total members of the two largest spoken language professional associations in the US, we would not reach that number: the ATA has 11,000* members, and NAJIT* has 1,021.

Agustín suggested that these two items – self-awareness and membership – seem to be the great differentials between the professional recognition enjoyed by our ASL colleagues and the lack of professional recognition experienced by court interpreters. Doing his part to encourage membership in NAJIT, De La Mora Interpreter Training awarded two one-year NAJIT memberships to the winners of their essay contest (among Finding the Parallels 2017 attendees).

The evening ended with a lovely dinner, great conversation renewed camaraderie, and new friends. A lot more activities awaited the attendees the following two days.
---
*References:
ATA membership: https://www.atanet.org/aboutus/
NAJIT membership: https://najit.z2systems.com/np/clients/najit/publicaccess/membershipDirectory.do?md=1
---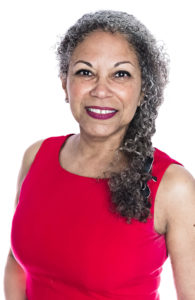 Brazilian-born Giovanna "Gio" Lester, Co-Chair of NAJIT's PR Committee, started her career in translation and interpreting in 1980. Gio is very active in her profession and in the associations she is affiliated with. In 2009, she co-founded the Florida ATA Chapter (ATIF), served as its first elected president (2011-2012), and later as president of its interim board. As an international conference interpreter, Gio has been the voice of government heads and officials, scientists, researchers, doctors, hairdressers, teachers, engineers, investors and more. Gio has been a contributor to The NAJIT Observer since its inception in 2011, and its Editor since 2016. You can follow her on Twitter (@cariobana) and she can also be reached at gio@giolester.com.