19 Sep

A Spanish interpreter communicating in Polish? Not quite!

I have been familiar with nonverbal language my whole life. As a child, I used to sign with my sisters and friends. We were just doing it the other day in court actually, my sister Marisa and me. But the first time I attended a more in-depth, formal presentation about unspoken language was several years ago. I forget the name of the presentation, but it was given at the NJ annual training program, and the instructor was Janis Palma.

But I could say with a reasonable degree of confidence that my most acute and representative experience of nonverbal language was last Monday. That day, as I got on a bus to make my way back to the place I'm staying in New Jersey from a Staten Island court, I met an elderly Polish woman. She was this sweet little grumbling lady. You have seen her around (her kind type), I'm sure.

When I hopped on the bus, it had a "not in service" sign, so the bus driver warned me where his last stop would be and did not charge me the fare. As soon as she saw me, my new instant friend moved her bags to offer me a seat next to her, even though the bus was nearly empty. Next, she grabbed my wet umbrella and deposited it in a small niche created by a surface covering a wheel. Then she asked about the weather. After a little while, we were informed the last stop was coming up, and we got off together. She asked if I was getting a transfer from the driver to board the next bus, and I told her that I had not paid for the ride.

And on we went in our little companionable adventure. We parted ways when I realized I was going in the opposite direction, so taken was I with our little exchange.

You must be wondering what it is that this story has to do with T&I.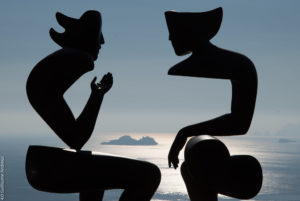 Well, to me, a lot. I communicated for the first time in my life for some length, about one hour, with a person with whom I do not share a language, and it was fun. It was so soothing. And not only did we sign, but we also spoke. In our own language. And surprisingly, we understood each other! It was a great experience.
I am by no means suggesting one ought to interpret in a language one is not fluent in. The experience just brought home the importance of body language and unspoken communication. Although my new Polish acquaintance continuously grumbled, she showed great kindness toward me and other passengers. Those are the non-language components, cues, and nuances that we must communicate in some way to make our message complete.
Had I been interpreting for her, would I be portraying a grumpy old lady as she appeared to me at first sight? Or would I have used the context and body language to portray her accurately, like the kind soul that she actually is? It is a thin line, but I think after all these years of training and experience, I can find the perfect balance.
The whole episode reminded me of the first time I went to observe a colleague at work. I was doing an internship for my first Certificate in Court Interpreting, as the program was called, and I observed the witness constantly smiling pleasantly and calmly. The interpreter, however, was glowering at the attorney (who was asking the most convoluted questions) while she interpreted, and given that she was blocking the jurors' view, all they had to go on was the only speaker they could see. In other words, the interpreter's nasty looks. Now I wonder the impression the witness had on those jurors, seen from the distorted message conveyed by the interpreter. I never found out the outcome of the trial because I was there for a limited time.
From now on, more than ever, I will be more cognizant of my non-verbal messages while interpreting. It's in the Code of Ethics, canon 1 (bolded text mine).
Canon 1. Accuracy
Source-language speech should be faithfully rendered into the target language by conserving all the elements of the original message while accommodating the syntactic and semantic patterns of the target language. The rendition should sound natural in the target language, and there should be no distortion of the original message through addition or omission, explanation, or paraphrasing. All hedges, false starts, and repetitions should be conveyed; also, English words mixed into the other language should be retained, as should culturally bound terms which have no direct equivalent in English, or which may have more than one meaning. The register, style, and tone of the source language should be conserved.
---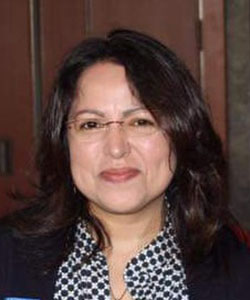 Hilda Zavala-Shymanik is a state certified/approved Spanish court interpreter and translator with more than fifteen years of experience in legal, medical, corporate, and non-profit settings in New York, New Jersey, Illinois, and Wisconsin. She is a board member, treasurer, Conference Committee chair, member of the Training and Education Committee and blog team of the National Association of Judiciary Interpreters and Translators as well as former president of the New York Circle of Translators. She is an active and voting member of NAJIT, ATA, and other professional groups. Hilda has two certificates in Legal Interpreting in Spanish and English, the latest one from NYU. Hilda is a former a Staff Interpreter at Essex County Superior Court in New Jersey, where she worked for six years. She now lives and works as a freelance interpreter in the Chicagoland area. Born in Chicago, Hilda lived for twenty years in Mexico and loves traveling. She continuously looks for opportunities to promote and advance the interpreting profession. Contact: hzavala@najit.org
Main photo from "Staten Island Ferry – St. George Terminal, Staten Island, New York, NY, USA – August 19, 2015" by Giorgio Galeotti, Wikimedia Commons, under CC BY 4.0. Body photo "La conversation" (cropped) by Guillaume Andreux from flickr, under CC BY-SA 2.0.