01 Sep

2019 NAJIT Scholar Testimonial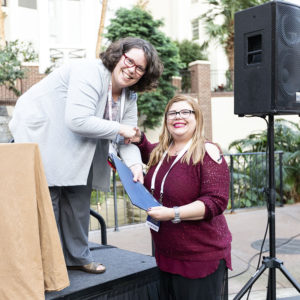 Daniel Galindo – John Jay College of Criminal Justice
Edda Raquel Jiron – Miami Dade College InterAmerican Campus
Edison Rodrigues – John Jay College of Criminal Justice
Mary Lou Romero – University of Louisville
Carolina Thomas – Florida International University
Attending the National Association of Judiciary Interpreters & Translators' (NAJIT) 40th Annual Conference in Nashville, Tennessee, as one of the NAJIT Scholars this year has been a great experience. I was privileged to have learned and gained insight from professionals who shared their expertise, tips and advice to help us acquire strategies to become better interpreters and/or language professionals.
Interpreters are expected to cope with large amounts of information and must decide in a short period of time how to best retain and transmit the message they receive into the target language. At one of the sessions, the presenter provided attendees with valuable techniques and ways to improve our memory.  He also explained in-depth the relationship between memory and note-taking. I personally think it's important that we know the difference between those techniques and when to apply them individually. He also allowed us to have a few practice sessions where we constructed a narrative for ease of recall and improved self-confidence.
On the first day of the conference, NAJIT'S board members welcomed the scholars with a very pleasant private meet and greet session with professionals in the field. They shared some of their views on changes in the industry, new expectations for the profession, available resources, and options to better utilize our skills and experience. It was nice to partake with other scholars and professionals at this meet and greet event for the first time.
By attending NAJIT's conference, I learned about new resources for practice materials to perform long consecutive interpretations and methods to enhance memory for all three modes. I also had the opportunity to evaluate my interpretation within the content of each interpreting setting.
I also attended sessions on Ethics Standards, on how to perform an accurate interpretation and on speaking up when coming across obstacles.  I learned how to effectively intervene when required and how to correct my interpretation in a way that upholds the ethical standards.
Sessions were not only educational, but they were also interactive, which made them enjoyable.
Sessions were not only educational, but they were also interactive, which made them enjoyable.  For instance, participants were able to engage in role playing and were able to practice and interact with one another. Throughout the different sessions, I learned about all three modes of interpretation, from effective listening in the Consecutive mode to speed in Simultaneous, to the best practices while reviewing a document for sight translation. 
The presentations that were offered at NAJIT were carefully designed to help seasoned language professionals, as well as provide guidance to those of us who are just starting in this field.  Conferences like the ones offered annually at NAJIT help us hone our craft, identify the best practices for each assignment, learn technical vocabularies, and get training on strategies to improve our on-the-job renditions.  
I was impressed by the fact that presenters had abundant practical exercises and techniques to approach different problem areas such as names, numbers, keeping up with conference speakers, and the unavoidable complicated utterances.  Personally, I think this conference was very well organized and very successful. 
After NAJIT's 40th Annual Conference:
Inspired by what I have learned from NAJIT's presenters, I have advised other student interpreters to become part of this wonderful organization, which focuses on the continued professional growth and development of interpreters of all backgrounds.
In my opinion, it is very important to be part of organizations like NAJIT and to attend this annual conference because it provides attendees the necessary tools to evaluate interpreters' output and performance in different social situations. 
In conclusion, as a NAJIT Scholar, I would like to express my heartfelt gratitude to NAJIT's board members for the unique opportunity that I was given to participate and learn from other professionals and mentors who spoke to scholars about their experiences during these three wonderful days in Nashville.  Finally, I'd like to thank event coordinators for the tremendous support that I received as a scholar, as well as NAJIT's presenters for making this 40th Annual Conference possible.