20 Aug

2018 NAJIT Scholar Testimonials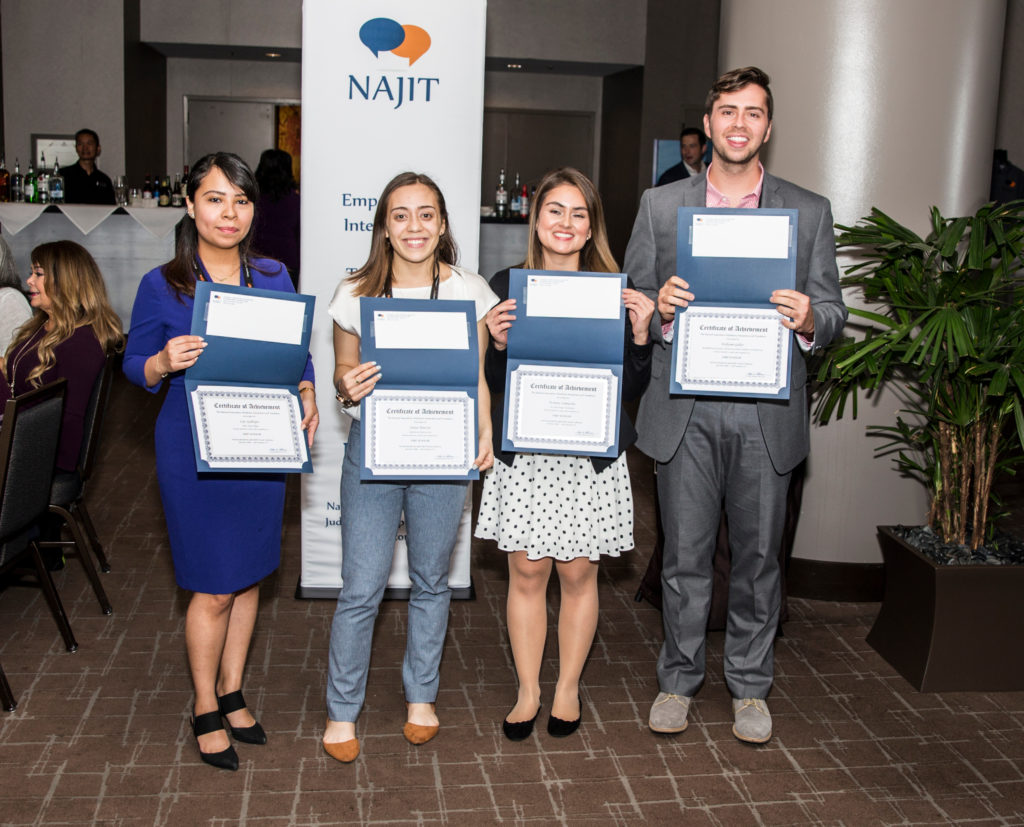 Ivonne Camacho –  UC San Diego Extension
Luz Gallegos – John Jay College of Criminal Justice
William Giller – Middlebury Institute of International Studies at Monterey
Sonia Rincón – American University
My name is Ivonne Camacho and live in Lexington, KY. I am a student in the online Professional Certificate in Translation and Interpretation at University of California-San Diego Extension (UCSD). I applied for the NAJIT Scholars Program because my interest and research in translation and interpretation prompted me to learn about the main professional associations, and I've been subscribed to NAJIT's Observer as a valuable source of information. When I received the information about the Scholars program, I applied because I am currently utilizing all of my disposable resources to continue my education. I study online, and even though the knowledge and experience I have gained from my instructors has been invaluable, I wanted to have an opportunity to meet colleagues face to face.
When I received the news I was selected, I was overjoyed! I had wanted to attend one of the major conferences for a long time but couldn't due to financial constraints. My experience during the conference was outstanding. I learnt so much from every single session I attended. There was something for everyone and I met so many nice people, and I achieved my goal, which was to meet experienced professionals and receive the most up-to-date developments and training in the profession.
Two people stood out in my mind from all the sessions I attended. I really enjoyed the sessions with Karen Borgenheimer on voice projection and quality, because I feel it is a unique subject that is not covered in most interpreting programs, and second, attending Gloria M. Rivera's session on analyzing a toxicology report, mainly because I have followed her in social media for a long time and in a way, she was my inspiration to join the program at UCSD. Attending the conference gave me a lot of confidence in myself and motivation to keep going. I have a lot of work to do, but thanks to meeting so many accomplished professionals I see what is possible in this wonderful profession. I want to thank the Board once again for this wonderful opportunity and I am already looking forward to attending the NAJIT Conference next year!
My professors for Spanish translation and interpretation at John Jay College are always looking to provide us with as many opportunities as possible to help us grow in our future profession. That's why when Professor Aida Martinez emailed us about the NAJIT Scholars program I went to the website to find out more. What caught my attention the most was the fact that this was both a networking and learning experience. Not only was I going to be able to learn new things beyond the classroom, I was also going to have the opportunity to meet professionals from all over who have been doing this for years, and for a college student who was just getting started, this was perfect. I have to admit that when I saw that this was only given to five students in the country, I became a bit disappointed, but still I decided to go for it.
I was in my translation I class when I received an email saying that I was chosen as a scholar. I could barely believe it. The amount of excitement I felt was unbelievable, so much that I shared the news immediately with all my classmates and my professors. I even stopped in between classes to call my mother.
My experience with the conference was amazing. I had the chance to meet and interact with people who have been interpreting for years. It was exciting to know their stories and how they got to where they are now. Hearing about each of them made me even more inspired than what I already was, but it also made me realize something very important: being knowledgeable about terminology is a must, but being confident and taking risks is an essential part of growing in the world of interpretation. Each of them helped me discover something new about myself, but Mr. David Gilbert's helpful words have helped me take chances and keep pushing for what I want.
As for the classes, I absolutely loved the ones I chose. It was amazing to see how much knowledge interpreters have, not just about interpreting but also about many other topics. Personally, I was extremely excited to see classes in some of the topics that really interest me, like The Anatomy of a Toxicology Report and Forensic Drug Analysis Vocabulary. What made it even better was the fact that those who gave the workshops were not just teaching or talking about something, they were demonstrating it with such interest and enthusiasm. I will never forget Mrs. Genevieve Navar Franklin and her captivating story about the time she had to interpret for a capital murder case. I remember her showing us a video of when she was narrating that same story to a different audience. The way she was narrating the events and the lessons she learned were not only interesting to hear, but also brought me and a couple of others to tears. "I am their voice" has stuck to me ever since. 
I got so much out of attending this conference. I was able to meet lifelong friends, such as other professionals as well as the other scholars. I learned a little bit of everything as well as improved simultaneous interpreting skills, which I have been able to use in my student interpreter internship. However, the most important thing that I came out with was a passion for interpreting and translating. I went from"this might be something I chose to do" to "I know this is what I want to do."
My name is William Giller and though I'm based in San Francisco, I'm currently interning in Manhattan at the United Nations in the translation and editing department. I came into the NAJIT conference with an open mind and I was blown away by how warm and welcoming everybody was that I met. The minute someone learned I was one of that year's scholars, I was greeted with a congratulations and sincere interest in where I studied and what I was interested in professionally. I applied to the NAJIT Scholars program not only because I'm interested in legal interpretation, but also because I was interested in seeing what a smaller conference was like. Unlike other professional association meetings I have participated in, NAJIT was much more congenial; everybody was happy to see each other, excited to sit in on the classes and network. I came away from the experience with many new contacts, all very willing to pass on information and helpful hints and tips of the trade. 
My name is Sonia Rincón, and I am a graduate of American University in the Washington D.C. area. I applied for the 2018 NAJIT Scholar Award program hoping to find a stepping stone from university into the professional field of interpretation and translation. What I found through NAJIT and my participation at the annual conference, however, was much more profound. Being able to become part of a professional association gave me the opportunity to not only broaden my own knowledge and further my profession, but moreover gave me the opportunity to enhance my network through developing lasting professional and personal relationships. Therefore, one of the most invaluable things that I was fortunate enough to experience at the NAJIT Conference was the expansive community of mentors and professionals in the field, all willing to help me now (and in the future) as I pursue translation and interpretation as a career. Therefore, what I found at the NAJIT conference was an extraordinary community of individuals who will forever be part of my life and professional development as I continue to grow, learn and develop in the field.