17 Aug

2017 NAJIT Scholar Testimonials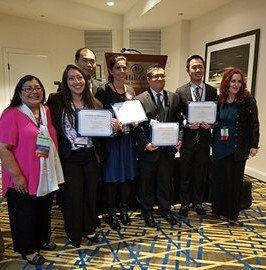 Claudia Gabriela Dardón, John Jay College of Criminal Justice
Anastasiya Kogan, University of Maryland, College Park
Omar Macías Reyes, John Jay College of Criminal Justice
Marta Gómez Salcedo, Montclair State University
Jing Zhao, New York University
The NAJIT Scholar Program allowed me to connect and reconnect with professionals in the field of court interpreting. I am very grateful to Ali Salcedo for being a fantastic mentor. He introduced me to the industry leaders and guided me through a wide range of workshops. Needless to say, the quality of workshops was impressive. As a novice court interpreter, I truly appreciated the presentation made by Heidi Cazes on "The Different Roles of the Judiciary Interpreter: Juggling Technique, Modalities, Fields, and Ethics." The NAJIT 2017 Conference was simply remarkable!
My experience at the NAJIT 38th Annual Conference was great. I met a lot of wonderful people, such as students from different colleges in the country, professionals who work in the field of interpreting and educators from different countries, just to mention some. They received me into NAJIT with open arms, and they also gave me good advice for my professional development. It made me feel confident in my choice of career to see how the interpreters support each other in so many ways, and the passion they bring to their work.
The conference had a lot of good choices of workshops and talks. It was difficult to decide which ones I wanted to go to. The ones I decided to attend were very interesting and helpful, with a lot of new information. I heard about the latest in interpreting techniques and I got some new ideas on how to improve my skills as an interpreter and translator. I enjoyed the practical aspects of some of the sessions.
Rob and Susan Cruz along with the board members received me with a warm welcome and helped me navigate through the conference, making my experience even better. It is an honor to belong to such a great group of professionals, and I hope to see them in San Francisco next year.
Attending the 38th Annual NAJIT Conference as a NAJIT scholar was an incredible experience!
I was not sure what to expect when on March 28, 2017, I read "Congratulations! You have been selected to attend NAJIT's 38th Annual Educational Conference as a NAJIT scholar!`` NAJIT was not an organization I had heard much about at Montclair State University, where I am currently a student. However, I was determined to enjoy this great learning opportunity.
Over the weekend I attended morning and afternoon sessions, and they were practical, well-prepared and challenging from the start. I still remember with affection "Simultaneous Exercises for the Experienced Interpreter" and "Visualize to Memorize." In addition, my mentor Beatriz Craney checked up on me often, and the Board made me feel very welcome. I also had the opportunity to meet my fellow scholars and a number of professionals who are already working in the field.
Thank you NAJIT one more time, and I hope to see everybody at the 2018 conference!
I am Jing Zhao, a 2017 NAJIT scholar. I graduated from New York University with a master's degree in Chinese-English translation, and my thesis was on legal translation. The 2017 NAJIT conference was a valuable and unforgettable experience for me. The administrator Susan Cruz and executive director Rob Cruz welcomed the NAJIT scholars very warmly, and Dr. Gladys Matthews, the treasurer of NAJIT, and Dr. Juanita Ulloa, one of the mentors of the 2017 NAJIT scholars, engaged us in great conversations on translation and interpreting and gave us expert advice on professional development. I attended receptions especially prepared for NAJIT scholars, where I networked with members of NAJIT committees and learned from them. I also attended amazing workshops and lectures ranging from forensic science to gang culture with fellow NAJIT scholars and professionals in interpreting and translation. The high point of the conference for me occurred when the NAJIT scholars were awarded our certificates and scholarships by distinguished conference presenters. Not only did I receive this honorable awards, but I also obtained valuable advice from Dr. Henry Liu, the keynote speaker of the conference, with the help of my mentor, Dr. Juanita Ulloa. Thank you NAJIT for this once-in-a-lifetime opportunity for me to gain experience, knowledge, and most importantly, great friends and professional mentors!